One of the most recognized holiday decor items are Christmas wreaths. Your front door tends to look bare naked if you don't have a wreath hanging on it for the Christmas holiday. But there are so many different types of holiday wreaths that are fitting for the style you are looking for. So let's take a look at some of these gorgeous wreaths below.
An Abundance of Christmas Wreaths
Boring, you say? Well, it may look it at first, but if you are wanting something basic to jazz up and add your own touch, this one is your winner! Add berries or lights or a cute cutout like this one and create the perfect Christmas wreath to greet guests.
There is something I just love about simple wreath of berries and greenery. It's elegant, yet shouts Christmas.
A lot of people like to get a flocked Christmas tree. Well, why not continue that decor to your front door? This flocked wreath is beautiful and white, with a light glow from the white lights woven inside.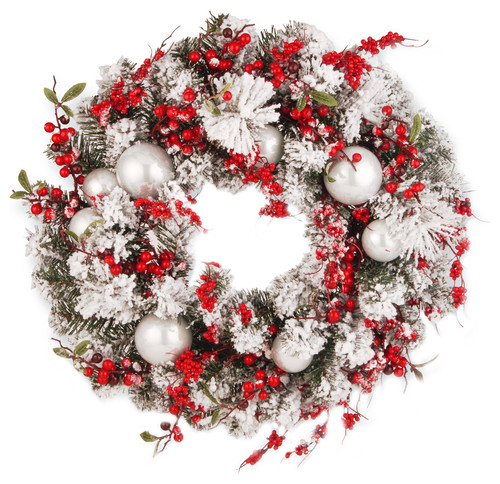 Another fun element to add to a Christmas wreath is ornaments. This specific wreath is full of silver ornaments to compliment the red, white and silver theme. I love these Christmas colors. It's bright and fun.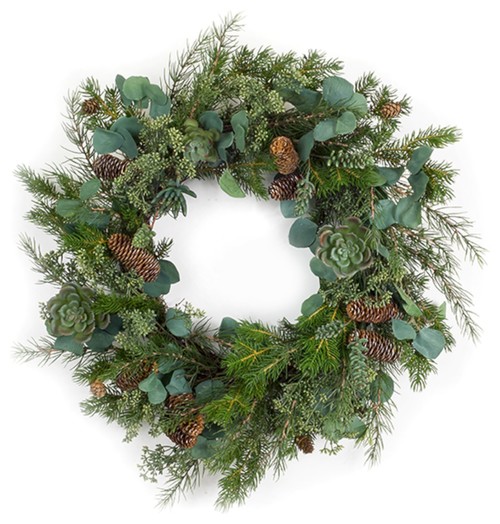 And here is another gorgeous wreath that features a more natural element theme. If you don't like all the baubles added, this is a good choice. I love all the greenery and complimenting pine cones that feel like you just walked out of the forest.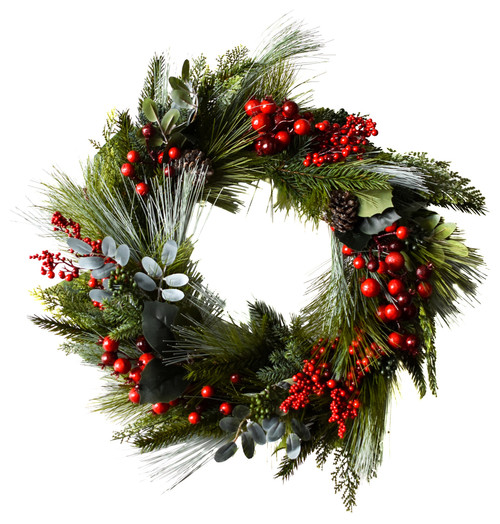 This Cedar Berry wreath offers a different selection of red berries, complimented with pine cones and other greenery.
I love magnolia wreaths.  They are great year around too!!
This is a fun wreath that is absolutely full and lovely of leaves and pine.
Last, I love this flocked berry and twig wreath. This wreath gives me a variety of all that I love: berries, flocked branches, green pine and pinecones. If you want a little of everything, this one is just your type!
Cutouts for Wreaths
Need to spice up your wreaths just a bit?  Our cutouts are amazing for that.